Municipal Operations Excellence (MOE) has developed partnerships with industry experts tailored for assisting elected and municipal officials in evaluating the condition of their public works operations/assets and leading them to reoccurring cost savings. Bringing this team together took a considerable amount of time and effort. Collectively, we are focused on your success.

Robert McBride
---
Robert McBride from Long Island, NY is a dynamic business strategist who maintains a diverse client portfolio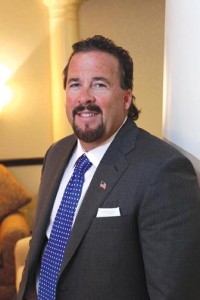 that spans a variety of industries, ranging from municipal water, real estate, construction, transportation and more. He is sought out by leading businesses, both nationwide and globally oversees, as well as prominent professionals and has an exceptional track record for building relationships.
Mr. McBride has some 30 years of experience counseling business leaders regarding business development and public policy. When it comes to the workings in the governmental and political arena, his work has resulted in the shaping of public policy in a number of areas including public private partnerships (P3), business advocacy, municipal matters, land use, etc. He has provided counsel regarding a number of complex issues here on Long Island and in New York ranging from mitigating community opposition to transportation and wastewater projects to navigating union matters. He also works with a Washington, DC-based lobbying firm representing a host of international firms.
Mr. McBride's career began in 1982 when he took possession of a small New York-based ground transportation company and rapidly expanded the business, making it the largest and most successful operation of its kind in the region. After selling the franchise in 2000, he served as Northeast Regional Manager for Coach USA – the largest ground transportation company in the world.
A successful entrepreneur, Mr. McBride has built of number of profitable businesses. In addition to his role at Park Strategies, he continues to own and manage several enterprises, including Metro Taxi, a company based in Denver, CO, distinguished for its environmentally friendly fleet of hybrid vehicles. He is also Chairman of Federal Shield Security, a security and surveillance firm on Long Island that offers a full range of investigative and security services.
Profiled in regional and national business publications, Mr. McBride was recognized by Long Island Business News as an influential leader of 2010 in its "50 Around 50" awards program. He was also named President of the Taxi Limousine & Paratransit Association in 2011.
Mr. McBride has a history of commitment and community involvement on Long Island. A true humanitarian, he has given back to his community for more than two decades in a number of ways. Mr. McBride has over 20 years of outstanding service to the Board of Directors of the Education and Assistance Corporation (EAC Network) for which he served as Board Chairman; he has also served on the boards of The Leukemia Society and United Way of Long Island. He has been actively involved with the Mineola Lions Club for some 25 years (acting as President from 1991-1993) and has also given of his time to the Friendly Sons of Saint Patrick for more than 20 years. Mr. McBride was honored with the "Declaration of Independence Award" by Israel Bonds in 2012 (one of the highest honors a lay leader can receive from the organization) and recognized by the Long Island Association for AIDS Care (LIAAC) in 2013. He was also awarded "Citizen of the Year" by the New York Grand Lodge Foundation Sons of Italy.
Mr. McBride resides in Dix Hills (LI) with his wife Marion. He studied Business Administration at the State University of New York


Al Lopez
---
Al Lopez from Long Island, NY is very well known nationally as a dynamic leader and change manager in the water and wastewater field. Al has forty-years of experience in the public works field both as a municipal manager and as a business consultant. Al spent 34-year working for the New York City Department of Environmental Protection as a high level manager. Al was the Chief Bureau Administrator when he departed the DEP as the Deputy Commissioner of the Bureau of Engineering Design and Construction (BEDC) in 2007. As Deputy Commissioner of BEDC he was responsible for management of all activities related to the development, initiation and completion of water and wastewater infrastructure upgrade and reconstruction projects. In this capacity Al had primary responsibility for the Department's multi-billion dollar capital budget and related construction program (2008 to 2017 ten-year plan was $19 billion).
Prior to that, Al was the Deputy Commissioner of the Bureau of Wastewater Treatment (BWT). While in this position he was responsible for all levels of management related to operations of a system of multiple complex wastewater treatment facilities in a highly regulated environment. Responsibilities included budgeting and resource management including direction of staff of over 1900 and facilities' regulatory compliance.
Prior to joining MOE, Al was the Regional Water Operations Manager for Arcadis in NYC and most recently as Independent Consultant to Veolia Water North America Operating Services in its NYC Water Board Contract, Al provides high level support to Veolia in the evaluation of day to day operations activities of DEP's Water and Wastewater Operating Bureaus. Responsibilities include coordination and direction to enable targeted site visits and assessments as well as support in identification & development of optimization recommendations and initiatives.
In his spare time, Al enjoys spending time with his family, especially his grandchildren.